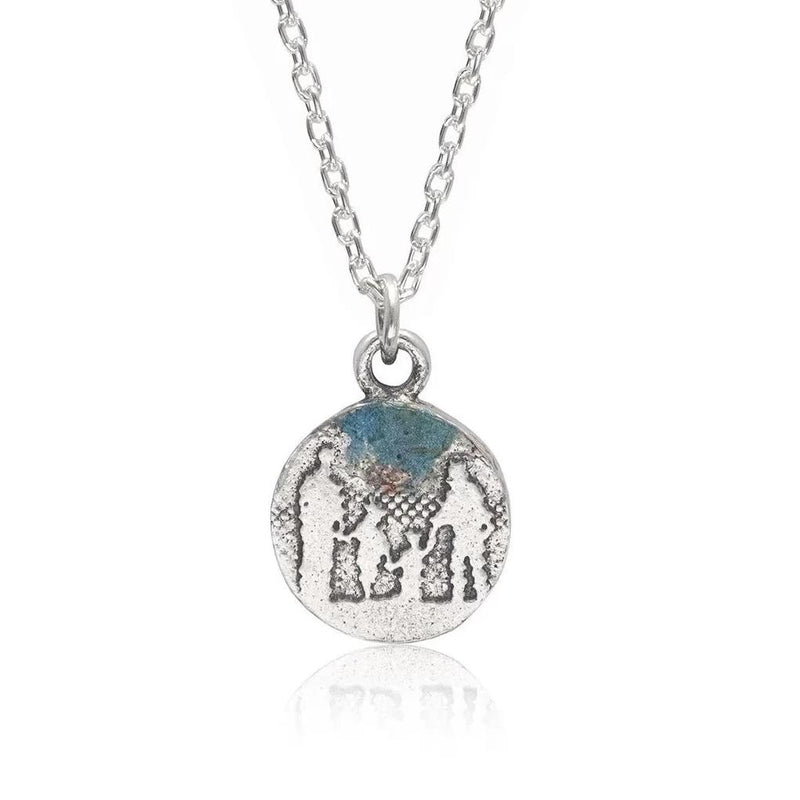 Little Round Family Necklace with Blue Sky
SKU: SRFP/S | Dispatched within 1-5 working days
This Little Round Family Necklace with Blue Sky is a precious reminder of meaningful moments spent with your loved ones. Each necklace is etched with an image of a family of four walking hand in hand, capturing the love and happiness they share.
Dedicated to those special times roaming in the countryside or strolling by the sea, this delicately handcrafted necklace is the ideal keepsake for those treasured moments. The shape of this necklace represents unity; the circle, a symbol of the complete joy your family brings you.
The blue sky is created with a unique enamel effect launched by Charlotte Lowe to celebrate her 10th business anniversary in September 2019. This family necklace is handmade in sterling silver with oxidised detail and blue enamel style finish. Every necklace is handmade in Birmingham's historic Jewellery Quarter and hallmarked at the Birmingham Assay Office.
Each necklace comes with a 16 or 18 inch fastening as standard with additional options for a 20, 22 or 24 inch chain.
Product type: Necklace
Measurements: H0.9 x W0.9 x D0.1 cm
Collection: Moments Like This
SKU: SRFP/S
*Christmas Delivery & Dispatch*
Christmas Delivery Promise - visit the Christmas Gifts collection to view all orders available in time for Christmas. 
Now delivering within 1-5 working days* via FREE next day delivery within the UK. 
*Some exclusions apply. Dispatch times can be found on each item listing. Items will be removed from the collection if they are no longer available for Christmas.
Please see our last order dates below: 

Thurs 14th Dec - Blue skies with golden details and Golden details
Mon 18th Dec - 
Blue sky on silver only
Thurs 21st Dec - Personalised engraving (initials/messages on back)

All dates are dependant on remaining stock so to avoid any disappointment please place your orders as early as possible. Items will be removed from the Christmas Gifts Collection when they become unavailable for Christmas delivery and all estimated dispatch dates can be found on each item listing.

Please note: for delivery outside of the UK it is advised to place your order by the end of October, however, last posting dates will allow us to post items from the pick-me-up collection until 6th December, therefore please try to get these orders in by the end of November. After this we advise that International Customers select our express delivery option for arrival in time for Christmas.

How long does dispatch & delivery take? 
All UK and international jewellery orders sent via Tracked and or signed for services via Royal Mail or UPS. Select your preferred carrier at the checkout. 
Most items are usually dispatched within 1-5 working days via via FREE 24 hour tracked delivery. Although this is a next working day service please note next working day delivery is not guaranteed.

Special Delivery may also be purchased for a small additional fee and is FREE on orders over £100. This is a guaranteed next day service which will arrive the next working day from dispatch. Dispatch times vary so please check individual product pages for the dispatch date. Should you require your order sooner please get in touch or leave a note at the checkout and we will do our best to accommodate your request where possible.
International orders are dispatched via FREE tracked and or signed for delivery within the same timeframe (above), but will take a longer to reach you unless you are happy to pay for the next day or express delivery service. In most cases delivery will be made within 5-10 working days within Europe and within 7-12 working days to the rest of the world. For faster delivery an express service is available on most collection items. Please see below for details.
Please note: not all items, such as our blue sky additions are not usually available for dispatch within 1-4 working days unless stated otherwise. The dispatch times for each individual item can be easily located below the product title on each product page.

To keep things simple we introduced the Pick-me-up collection, which highlights all items currently available within this timeframe. If the item is no longer available within this timeframe it will be removed from this collection. You can also use the delivery filter when browsing products to see products available for dispatch within a specific timeframe.

Do you have an express delivery service?
Next working day delivery via Royal Mail Special Delivery or UPS is available on selected items within the UK and within 2-4 working days internationally. Note: dispatch times for each item need to be added to the above timeframes to calculate the total lead time. Please read on for further details.

The option to add express delivery is available on all collections throughout the majority of the year and items within the Pick-me-up collection can be delivered within 1-5 working days of placing your order within the UK and 4-6 working days of placing an international order. Items will be sent via Royal Mail Special Delivery or UPS Express.

The express delivery service is also available on other collection items, however, please note the express service will only apply once the item has been dispatched. Dispatch periods for items outside of this collection range from 1-5 weeks on collection items and 4-10 weeks on items with personalised images. Express delivery is then usually available the next working day to most international destinations. Please see below for further information.
If you need your item by a certain date that is not within the collection pop an email over to info@charlottelowe.co.uk or leave a note on your order and we will do our best to ensure your request is met.
Guide to items with longer dispatch times:

Dispatch times for each individual item can be easily located below the product title on each product page, at the beginning of the item description for each of piece of jewellery. Here is a guide to dispatch times outside of the Pick-me-up collection:
Items with blue or golden finish - 1-2 weeks
Although we do set aside some of our best sellers inside for fast delivery inside the pick-me-up collection, 1-2 weeks is them preferred timescale to make and complete orders with blue skies or gold vermeil detailing. 
Stone set items, gold or platinum pieces and out of stock items 2-4 weeks 
Timescale varies depending on time of year. Our stone set items take a longer time to complete, especially when a golden finish is involved or the piece needs to be made up in gold or platinum. We also prefer to increase the delivery times rather than mark items as out of stock. 
Personalised images & limited editions 4-10 weeks
These items take a very long time to design and perfect, therefore a longer timescale is needed to prepare and make your order. This excludes personalised items that are engraved initials, words or messages, which add just 0-2 working days.
How will I know when my order's on its way?
All jewellery parcels are sent via tracked services including Royal Mail or UPS, which means they will usually arrive with you the day after you receive your tracking update, if ordering within you UK or within 1-4 working days international.
Tracking is added to your order on the day of dispatch. If you would like your order delivered on a particular day then please get in touch and Charlotte Lowe will do our best to ensure your request is met.
Shop by dispatch time:
You can view all items available for dispatch within a certain time period by selecting the relevant option from our filter menu. Whereas UK orders will be delivered within this dispatch period please be sure to factor in your countries delivery time when placing orders for delivery outside of the UK.

To view by relevant dispatch period recommend selecting the View All in our collections menu and then using our shopping filter to find items available within your time frame. This can be found above the first two product images on mobile and tablet or on the left hand side of a desktop view. You can filter inside each collection or simply view all items and use other filters such as 'Colour', 'For', 'Price', 'Theme' and jewellery 'Type' in order to find the perfect gift. Click here to get started.

If in doubt please contact info@charlottelowe.co.uk with any queries you may have.


Payment options
Payments can be made via credit, debit, PayPal, Apple Pay or Shop Pay. For special orders please email us at info@charlottelowe.co.uk or give us a call on 0121 647 3677.
Note for international customers (outside UK):
Payments are accepted in the following currencies through PayPal:
Australian dollar AUD, Canadian dollar CAD, Czech koruna CZK, Danish krone DKK, Euro EUR, Hong Kong dollar HKD, Hungarian forint HUF, Israeli new shekel ILS, Japanese yen JPY, Mexican peso MXN, New Taiwan dollar TWD, New Zealand dollar NZD, Norwegian krone NOK, Philippine peso PHP, Polish zloty PLN, Russian rouble RUB, Singapore dollar SGD, Swedish krona SEK, Swiss franc CHF, Thai baht THB, US dollar USD.
All other payment methods will be processed in GBP.
Contact details
Tel: 0121 6473677
Email: info@charlottelowe.co.uk

Our workshop is open from 10 am - 4 pm Mon - Fri but you are welcome to call anytime between 9am - 6pm. Please note their is no shop on our premises, so please do schedule an appointment to visit us to avoid any disappointment.
RETURNS POLICY
Christmas Returns & Exchanges
Our returns and exchanges policy is extended to more than 30 days from October 28th 2023 until 12th January 2024. All unpersonalised and unworn items bought before the 12th December will have more than 30 days from receipt of order to return.
Standard Returns Policy
In the event you are not 100% happy with your purchase you may return or exchange your item within 30 days of receiving your order. This is providing the item shows no signs of wear or damage. Please be aware that some items such as earrings or pieces that are custom made, made to order or personalised, cannot be returned.
Please note that when returning an item, the parcel is your responsibility until it reaches Charlotte Lowe Jewellery. We recommend that you use a Recorded or Special Delivery service to insure it against loss or damage. Postage will only be refunded only if the item is faulty.

RETURNS ADDRESS:
Charlotte Lowe
Unit 3, 39 Warstone Lane
Jewellery Quarter
Birmingham
B18 6JQ

Please note: Our PO box address set up during the Covid-19 pandemic is no longer under operation.